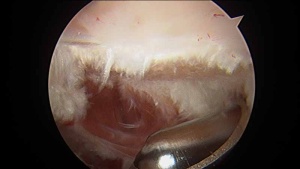 Impingement syndrome is a term that is used to describe a diagnosis. The diagnosis is one related to pain coming from the rotator cuff tendon. If you've read the general information about [rotator cuff tears], you'll note that there is a lot of similarities in discussion about partial rotator cuff tear and "impingement syndrome".
Impingement syndrome is a term often used by a shoulder specialist interchangeably with the term "partial rotator cuff tear" or "rotator cuff tendonitis". A common theory of shoulder pain is that "impingement" is responsible for making the rotator cuff tendon hurt more when it is inflamed. It is also believe that "impingement" can result in partial or complete tearing of the rotator cuff tendon over a long period of time.
It is often taught that impingement occurs on the rotator cuff tendon because of an unfavorable shape of the undersurface of the acromion. The acromion is a portion of the shoulder blade, the scapula. There are many references that describe the shape of the acromion as one of three types: Type I, Type II, or Type III.
I have never been able to make much of a distinction between any two adjacent types. I'm not alone. There is little reproducibility among examiners in their ability to consistently categorize an acromion as one of these three types.
The significance of the different types is that Type I is generally considered to be "normal", and a type III is generally considered to be "abnormal". It is thought that impingement problems are more common in patients that have a Type III acromion. The classification of acromion morphology (shape) is not of much practical value to me, because I find that patients with a Type I acromion can have impingement syndrome. Presence of a Type III acromion does not necessarily mean that person has impingement syndrome.
You may have heard the term "spur", for example, in a shoulder patient who had surgery to "remove the spur". That reference generally refers to a bony prominence on the undersurface of the acromion.
Treatment
Impingement syndrome is treated exactly like rotator cuff pain or a partial rotator cuff tear.
Rotator Cuff Debridement with Arthroscopic Acromioplasty